I made a few stops today and thought I'd share.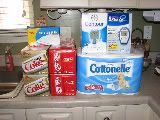 CVS
I bought 4 monitors. I paid $5 for the tax (6%) and got back $20 in ECBs to spend. I spent them on the 4 12 packs, Cottonelle and envelopes. I paid a quarter for that tax! I still have $3 in ECBs to spend. Don't forget to enter your Coke codes on MyCokeRewards.com. I went ahead and entered mine and ordered 4 coupons for free 20 oz.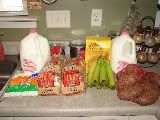 Aldi
If you have an Aldi in your area, you should go. Some things are cheaper here then at any other store. Milk is $1.49 a gallon and bananas are $.37 a pound. I got everything pictured for $10.49.