The family and I went out shopping this afternoon. It was fun. Everyone was such a good sport. My daughter is starting school this year and there were a lot of school supply deals so we wanted to take advantage of them. Here's the deals: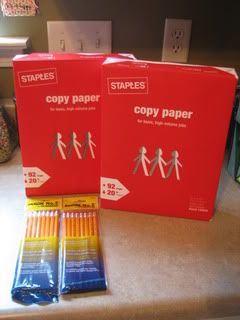 Staples
For the next few weeks Staples will be having 1c sales on certain school supplies.
This weeks deals:
Staples Copy Paper – $3.69 (Limit 2)

-$3.68 Easy Rebate
=$0.01
Staples Pencils 8pk – $0.01
Photo Plus Paper – $9.99
-$8.99 Easy Rebate
=$1.00
Other $1.00 sale items:
2 pk Kids Scissors
Scotch Tape
Bic Velocity Pens 5pk
6 Pk Sharpie Highlighters
3 Pk Erasers
2 pk Bic Whiteout
Staples Mini Stapler
Thanks
Nickles N Dimes
I paid $7.50 and will receive most of it back in a rebate.
Walgreens
Coppertone Nutrashield
Sale:$10.99
Use: $5.00 printable
HERE
(use 2)
Earn: $10 RR WYB2
Final Price: 2/$1.98
Huggies Training Pants
Sale: $10. Buy 2. (Deal is $5 RR when you buy 2)
Use: $3.00/1
HERE
Final Price: $9.00 after the $5 RR
Thanks
She Shops Smart
The pencils were 39c and the envelopes were 59c after the in add coupon.
Spent $17.50. Have a $5 RR. Have a $3 rebate. Total: $9.50.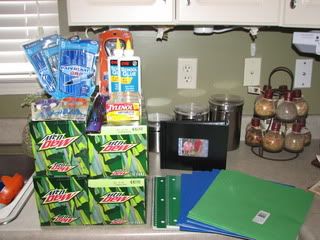 CVS
Lots of deals this week! See the list
here
.
Pepsi is on sale 4/$12 with $2 RR thru Tuesday. Final cost $10.
My oop was $3.50 for tax. I have a $5 rebate to submit. I am not sure how many ECBs I have left. I didn't look.
Target
BakeShop Products, $1.50

Used $1 printable coupons that are no longer available

Final Price: 50¢
Submit Kelloggs Fuel For School Rebate
get back $10.
Thanks
Bargain Briana
All Laundry Detergent Travel Size $1.02
Use $1 coupon from 6/28 RP
Final Price: 2c
Total today was $8.20. Used a $5 gc. Paid $3.20. Will get $10 back via rebate.
Aldi's
Milk is $1.49 a gallon every day. Bananas are 44c a pound. Lunch meat is 8 oz for $1.49. Potatoes were $1.99 for 5 lbs.

Paid $9.50. Will get back $3 via rebate.

We also had lunch at Burger King. It was $11.50 for the 4 of us. No coupons!

Total today was approximately $60. I have $30 in rebates. (My rebates go to fund the Disney trip) Not bad!