I did a lot of shopping over the weekend.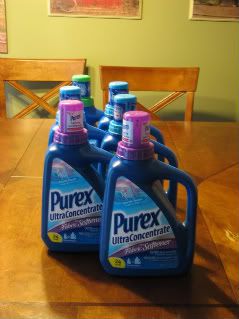 6 bottles of Pures at Winn Dixie (On sale for $2.50 a bottle through 7.31. I had $1 off coupons). Total $9.50
This was last week's sale - The panty liners and 2 Speed Stick deodorants were on sale at CVS last week. Paid $3.89 (used ECBs) and earned $4.89. I had a $5 RR to use at Walgreens. Got 2 Excedrin and 1 19c box of paper clips. Used the $5 RR and paid 98c. Earned $5 RR for the Excedrin. Then I got the Goody's Headband, 2 Highlighters, pencil sharpener, 2pk pens and pencils. Used the $5 RR. Paid 90c. Received $1 RR and a mail in rebate for the headband. (This will be applied to the Disney fund when it arrives.)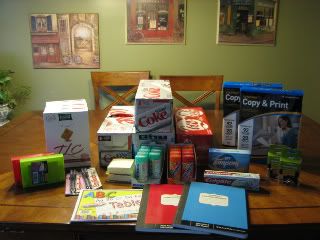 This week's sale at CVS - See the deals
here
. I had a $4/20 coupon that was emailed to me. If you haven't already registered your email with CVS, you should. I also had 3 coupons for FREE Kashi products. The deal was buy 3 boxes for $10 and get $5 back. Since I got the 3 boxes for FREE with my coupons, I made $5 in ECBs. I also had 15 $1 Mentos gum coupons. The gum is on sale for $1 and if you buy $15 worth, you get $5. So I made $5 on this too. I am saving them for the upcoming Huggies and Pampers sale at CVS.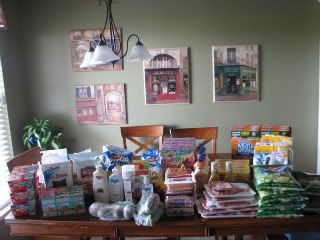 Huge run at Publix! Total before coupons was $296.68. Total after coupons was $66.79. I have $36 in rebates to submit. So it will be $30.79 after the rebates. I accidentally bought 2 more bags of salad then I had coupons for... so that was $4 of it that I shouldn't of spent. Bummer.
Highlights: 8 bags of lettuce, $11 worth of T-bones, 7 packs of hot dogs, 8 3 packs and 4 8 packs of juice, 12 bandaids, 6 yogurts, $25 worth of other meat, 4 Birds Eye Voila. 8 salad dressings and 4 Friskies cat food.