Read on! You won't believe this deal!
Here is the Publix loot from yesterday:
The retail (with the sale) was $182.94. I paid $253.91. But before you start questioning my bargain hunting abilities...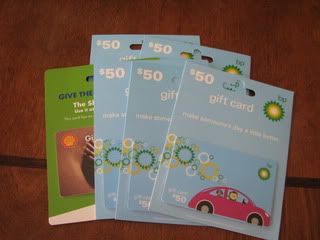 That's right! I paid $253.91 for all those groceries and $300 in gas gift cards at Publix! I got paid (in a round about way) $46.09 to take those groceries and gas cards out of their store!
I am still in shock that I was able to do that! It was hard work. It took 3 hours to get my list and coupons together and another 3 hours to go shopping, but it was so worth it!
The grand total was $253.91 for $482.94 with $300 left to spend.
So how did I do it?
I went to 6 Publixes. I don't believe in clearing a shelf at any store, plus I had 6 $5/$50 to use. (These were Piggly Wiggly coupons that were in a school fund raising book that did not specify that they excluded gift card purchases. I was blocked on using it at one store, but I wasn't surprised.)
I had coupons for every item I bought. I got overage of 41c for each Apple and Eve juice I bought by using a coupon for 50c/1 from the
Greenwise magazine
and $1 publix coupon from the Summertime Savings magazine.
The Lipton tea was 1.09. Used 50c/1 from an insert.
The Kashi waffles were 1.39. I had $1.50 coupons I received from Vocalpoint.
The A1 marinage was 1.45 each. I had $2 coupons from an insert.
I had $1 Betty Crocker/ General Mills peelies I found at Publix last summer for the fruit chews.
The raid was $3.89. I had $4 in coupons. (deal ended yesterday).
The Huggies bath products also gave me overage. They were on sale for $1.64 each and I had $1 coupon for each one and then I had 3
baby club
coupons that were buy one get one free.
The biggest thing is you just want to save every single coupon you get until it expires. Even if you don't think you will buy it, it could be free or it might even give you a little overage to buy it.
I also went to CVS.
Transaction #1 was $5.20 out of pocket. I started with $20 in ECBs and ended up with $30 in ECBs.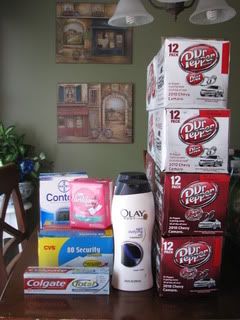 Transaction #2 was $1.50 out of pocket. I still have $22 in ECBs left to spend!
I have 2 of the best, most cutest kids on the planet. They went shopping with me yesterday afternoon and they were so well behaved. I dragged them around town to a few stores and they didn't give me much trouble! I rewarded them by us all dressing up as cows and going to Chick fil a for free dinner. I even let my 5 year old color on my face (she was making cow spots) and I went out in public like that!
Here are my two beautiful kids: