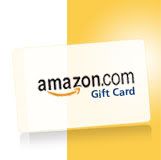 I just received $15 in Amazon.com Gift Cards. I've stored them in my Amazon account for later purchases.
The first was a $10 gift card from doing a survey with Keynote. Go
here
to sign up.
The second was a $5 gift card from Swagbucks. If you haven't signed up already, you should! Just click on the banner below.