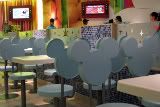 1. Bring your own breakfast foods and eat in the room. They sell milk in the hotel food court if you would like to do cereal.
2. Split meals. A lot of the meals at the counter service restaurants are large. Enough to feed 2 people if you aren't super hungry.
Cosmic Rays (MK), Flame Tree BBQ (AK) and Sunshine Seasons (EP) all have large servings.


3. Get a free cup of ice water at any restaurant in Disney that serves fountain soda.
4. Order a coke with your meal with no ice. Then get a cup of ice. You will be able to share one drink between two people.
5. Order an adult combo for your kids to split instead of ordering 2 kids meals.
6. Order kids meals for the adults to eat at counter service restaurants.
7. Chose to buy things a la carte to save money. Such as buying just a hamburger and soda instead of the combo.
8. Try timing your meals differently - instead of a "breakfast/lunch/dinner" day, do a late breakfast ("brunch") or an early dinner.
9. Bring your own snacks and water to the park.
10. If you are going to eat at a sit down restaurant, try to do it for lunch. Prices are cheaper then.
11. Look into the different
dining plans
Disney offers.
We did the Magic Your Way Plus Dining. We spent about 25% more than what we paid for the plan. A great way to save money! And we had 7 character meals. These are worth it because the characters come to you while you eat. Loved it!