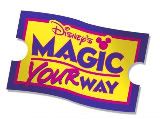 If you aren't buying your tickets as part of a package with your hotel accommodations, then this post is for you! This is all about how to save money on your tickets.
There are multiple ways to save on your tickets. One of the most popular ways is through Undercover Tourist located here:
Theme Park Tickets - which ticket is right for me?
They have a large variety of tickets to fit your need and can save you up to $39 off what you would pay thru Disney. You can get even additional discounts on the tickets when you sign up for the
Mousesavers newsletter
. They send out the newsletter on the 15th of every month and it contains a link for Undercover Tourists with additional savings. When you compare prices, be aware that the prices on Disney's website doesn't include the 6.5% tax you'll pay, but Undercover Tourist's prices do. You can still have your tickets transferred to your room key when you check in.
Here is a thread discussing them on
The Dis
.
Buy your tickets from Undercover Tourist, not through a package. If you sign up for the MouseSavers.com newsletter at
http://www.mousesavers.com/newsletter.html
and wait for the next newsletter to come out, you get a secret link that will save you even more on tickets. Currently 6-day base tickets are $9-$10 off plus you get a free 7th day.
If you are a
AAA member
, they also offer discount tickets. They also offer discounts on hotel rooms. If you aren't a member, this is definitely worth researching. Your discounts could more than pay for the membership.
Also check with your employers and see if they offer discounts. I just discovered that my husband's job offers discounts on Disney tickets as well as discounts at over 50 other places nationwide.
Here are a few great links on further details on how to save on your tickets:
The Dis Ticket Info
and
AllEars.Net
.