We are having a yard sale tomorrow. We have a lot of random junk to sell. None of it is absolutely fantastic, but we need to get rid of it so I figured we would have a yard sale before we take it to the thrift store's donation box. Fingers crossed that we do okay. The money is going into our emergency fund. Fun fun!
Also my daughter started kindergarten at the first of the week. Here's a picture of her in a dress that my mother in law made.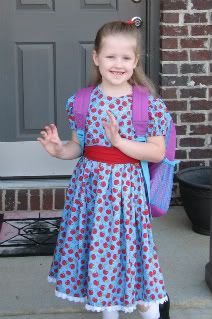 Nothing else interesting to report. My coupons are not organized at all! I hope to have time to organize them this weekend and be back in full swing with everything by early next week.
Thanks again to all my readers. I love that you are reading my blog on a regular basis and I promise as soon as my life is organized and I am back on track, I will have tons and tons of useful information to post.