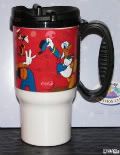 Most resorts at Disney have a refillable mug program. You purchase the mug for a flat rate of $12.99 and you get unlimited refills for the duration of your trip.
The mug more than pays for itself. Check out the page on
AllEars
!
Just be aware that it only holds about as much as 1 can of coke. It would be cheaper to have canned drinks in the room. If you don't have a fridge, fill a cooler up with ice.