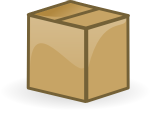 Disney will accept packages on your behalf up to 2 weeks before your scheduled arrival date. If you plan to fly to Disney, this could possibly save you a lot of money.
You can ship groceries, extra clothes (so you don't need another suitcase), a stroller, etc. Just whatever your family might need.
Call your resort to verify their mailing address. Mark on the package CLEARLY your date of arrival and the name your reservation is under plus add GUEST in bright red marker. It will be waiting on you when you arrive.
I find Fed Ex Ground to be the cheapest when mailing large packages.