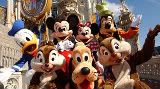 One way to save on souvineers at Disney World is to visit 1 of the 3 Disney character outlets at the nearby Outlet Malls. You can save up to 70% off of the cost of the same items in the parks. If you have time, it is definitely worth a trip.
Here are the 3 malls that have Disney Outlets:
1.
Chelsea Premium Outlets
2.
LakeBuenaVista Factory Store
3.
Prime Outlets
Here
is a Dis thread that discusses the 3 malls.
Walmart near Disney also has tons of Disney related items.