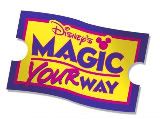 One thing you need to consider when preparing to purchase your Disney tickets, is if you want the option to visit more than one park a day. Disney calls this the Park Hopper option. It costs $50 extra per ticket but is a one time fee that is good for the entire length of your stay.
The obvious bargain hunting option is to forgo this choice. Staying at one park all day long is a great choice for a lot of people. It all comes down to what is important to you.
We purchased the Park Hopper option. We hopped 3 out of the 8 days that we were there. But it was nice to have the option of being able to leave one park to go to another if it was overcrowded or not where we decided we wanted to be. I would definitely purchase this option again.
Read more about Park Hopper
here
,
here
and
here
.