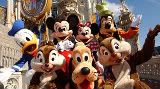 Tickets to Disney are not cheap. A one day ticket is $79 per adult. (The more days you buy, the cheaper the ticket gets. Once you have bought a 4 day ticket, each additional day is only $3 more.) But what do you do if you want to go for just one day, but can't afford to pay the one day's worth of admission for your family? (A family of 3 is $226 for 1 day!) You want your child to still experience some Disney magic while you are in Orlando, right?
If you still want to meet characters without paying admission, you could book a character meal at one of the restaurants located outside the park. (You can park for free at any resort, just ask for the 3 hour parking pass to check it out.)
1900 Park Faire
has Cinderella, Prince Charming, the 2 Stepsisters and Lady Tremaine for dinner. It is pricey though. It's $36 per adult and $18 per child.
Chef Mickey's
has Mickey, Minnie, Pluto, Donald and Goofy. If you go for breakfast it's $22.99 per adult and $12.99 per child.
Every night, beginning at 9 pm, the
Electrical Water Pageant
makes it's way around Seven Seas Lagoon and Bay Lake. It can be seen at 5 of the resorts. You could go for dinner at 1900 Park Faire (located at The Grand Floridian) and then walk down to their beach and see the Pageant and the fireworks at Magic Kingdom.
Disney's Boardwalk
is located right outside Epcot. Every night they play a Disney movie and have a campfire. The kids can play in the sand while they watch the movie. Be sure to get an ice cream cone at Beaches and Cream. Also, if you plan to be there around the time of Illuminations at Epcot, you can see a lot of the fireworks and hear the music.
Fort Wilderness Campground
has a bonfire every night (around 8 pm) and it is free. It starts with a sing-a-long, Chip and Dale come for a meet and greet and then they play a Disney movie for free. You can bring items to make your own s'mores or you can buy it there. Of you can bring whatever treat you want. They also has a free petting zoo and you can visit the barn where they house the horses they use on Main Street. Small children can enjoy pony rides.
Animal Kingdom Lodge
has over 100 grazing animals on property. You can view them for free. While you are there, you can stop by the gift shop and there is a place set up for kids to play musical instruments from Africa!
There is no admission to visit
Downtown Disney
. There are full size statues of Disney characters that you can pose next too for memorable pictures. There is an amazing Lego store there with plenty of Lego structures that you can check out. They also have a big play area where kids can build legos for free. Also be sure to visit the Ghiradelli Chocolate store. They are always giving out free samples! And if you walk towards Pleasure Island, you can watch the hot air balloon take off. There are so many things to do here!