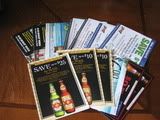 The way I am making the most for my Disney fund is by No Beer Purchase Required Rebates. The beer companies put out these great rebates all the time. You buy 2 12 packs of Budweiser, for example, and $10 worth of steak and you get $10 back. But the awesome part is, in a handful of lucky states, beer rebates are against the law so these companies honor the rebates without a beer purchase required. So you could buy $10 worth of steak and get the rebate for $10 back!
The lucky states are AL, AR, CT, HI, KY, ME, MD, MO, NC, NJ, NY, OK, UT and WV.
I find most of my rebates on Hot Coupon World's trading forum located
here
. Most people sell their forms for 25c to $1 depending on how much it gets you back. I recently paid $1 for a $25 back when you buy $50 in meat.
You can also read about the different rebates available in the
Gimme My Money Back
forum on HCW.
If you have any questions, let me know! I am glad to help.