I have 2 daily features on my blog called 4 and 5 A Day. I got a phone call from my mother earlier today asking me why I hadn't posted them in a while. Well the truth is, I haven't had time! I always do them as well and because of the holiday deals, I haven't had a chance. But I hate that my readers are suffering from my lack of time. I wanted you to know that starting Monday, these 2 daily features will be back!
4 A Day
is at least 4 freebies/samples for you to sign up and request. Remember freebies often have coupons in them!
(This is Mickey's mailbox from Disneyland)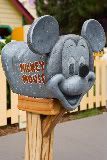 5 A Day
is 5 companies that I list for you to email. Contacting the companies directly is a great resource for coupons that is often overlooked. This feature makes it easy on you to email the companies because I link you directly to their contact page.
So anyways, I apologize for slacking on these features. Be sure to look for them on Monday!
Sorry guys!